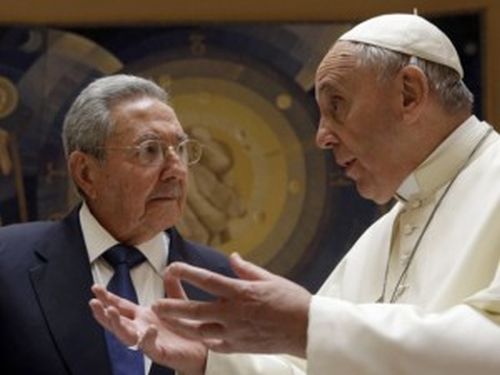 Pope Francis met today with Cuban President Raul Castro in a private audience of about 55 minutes held in the halls near the Paul VI room of the Vatican.
The Cuban president travels accompanied by Vice-president of the Council of Ministers, Ricardo Cabrisas and Foreign Minister Bruno Rodriguez, among other representatives of his government. He was received by the Swiss guard of honor and the prefect of the Pontiff's House, Georg Gänswein.
Raul Castro presented the High Pontiff of a painting of the Cuban artist Alexis Leyva, known by Kcho, representing the tragedies suffered by thousands of migrants in the Mediterranean Sea.
Also, the Cuban President gave the Bishop of Rome a commemorative medal of the 200th anniversary of the Havana Cathedral.
On his part, Francis gave the Executive a copy of his apostolic exhortation The Joy of the Gospel and a medal of St. Martin of Tours, patron of Buenos Aires.
In statements to the press, the Cuban President affirmed he thanked the Pope for his contribution to the process of reestablishment of relations between his country and the United States.
He also said to have transmitted to the High Pontiff the love of the Cuban people and their expectations of the Pope's visit to the island, scheduled for next September.
The Cuban President arrived the eve to Italy, after participating in Russia in the celebration of the 70th anniversary of the victory over fascism.