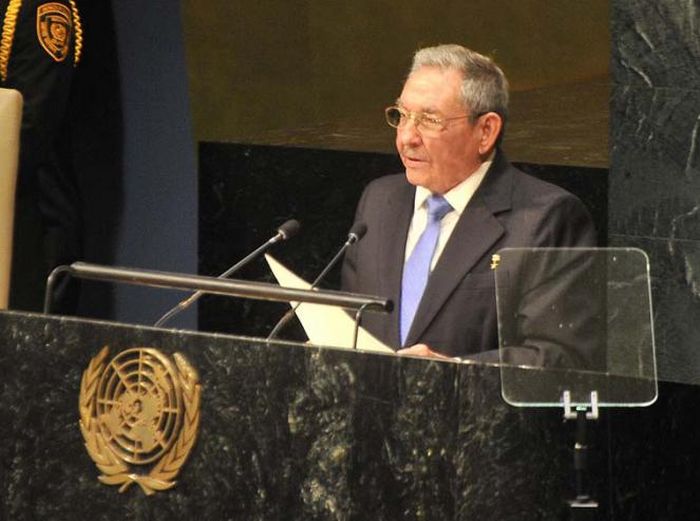 Cuban President Raul Castro thanked at UN the unanimous support of the international community to stop the economic, financial and trade blockade of the island, imposed by the United States more than half a century ago.
Speaking in the first day of discussions at the top-level Summit of the UN General Assembly, the president highlighted that 188 Governments and countries have supported, in the heart of the organization and in different international forums and regions, the demand for the unilateral lifting of the blockade.
Raul Castro's Statement at UN General Assembly
"I am reiterating the eternal gratitude from the Cuban people and Government for your continual support," he asserted.
Raul Castro ratified that the normalization of relations between Cuba and the United States will be reached when the blockade is stopped, the territory occupied by Guantanamo naval base is returned, illegal radio and television broadcasts and destabilizing plans are stopped, as well as the island is compensated for the human and economic damage it is still suffering.
In reference to Washington's blockade, he said that while it continues, we would continue presenting the bill entitled Need to Put and end to the Economic, Financial and Trade Blockade of Cuba, Imposed by the United States of America.
Since 1982, the UN General Assembly has overwhelmingly supported the text, which was voted in favor last year by 188 countries of the 193 possible supporters (UN member countries), only rejected by the United States and Israel.
In his speech before the plenary of the main decision-making authority of the organization, the Cuban leader asserted that the international community will count on the honest voice of Cuba to face injustice, inequality, underdevelopment, discrimination and manipulation.
He also presented the commitment of the island to the struggle for establishing a fairer international order, with human beings' dignity and welfare as its core.
Earlier, US President Barack Obama expressed his trust in the General Assembly that the Congress of the United States would lift the blockade of Cuba, sanctions that persist, despite the reestablishment of bilateral relations and the recent reopening of embassies in both nations.