Cuban President Raúl Castro arrived in Costa Rica leading a delegation to the 3rd Summit of the Community of Latin American and Caribbean States (Celac).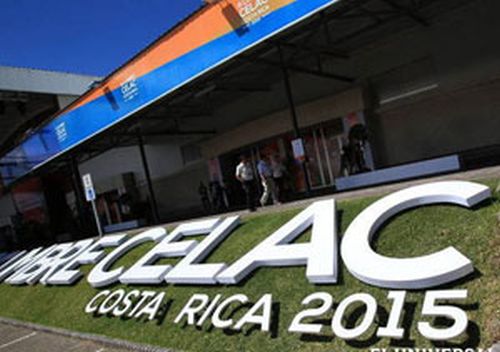 This summit, which will run in San Jose on Jan 28-29 under the slogan "Building Together," closes the third year of institutionalization of Celac, with Costa Rica handing over the pro-tempore presidency ot the bloc to Ecuador.
The Cuban delegation also includes Foreign Minister Bruno Rodriguez; Deputy Foreign Minister for Multilateral Affairs, Abelardo Moreno, and the Charge d' Affairs to Costa Rica, Ambassador Nirsia Castro.
Foreign Ministers Debate Statements from 3rd CELAC Summit
The foreign ministers from the member countries of the Community of Latin American and Caribbean States (CELAC) are debating the statements and documents from the 3rd Summit of that regional integration mechanism.
Most heads of State and Government from all 33 CELAC member countries are expected to arrive in San Jose today to meet on Wednesday and Thursday, organizers said.
The Summit's works were started on Sunday by the national coordinators, who met until Monday night at El Pedregal Event Center, ten kilometers west of this capital.
Costa Rican Deputy Foreign Minister Alejandro Solano told reporters that the experts had reached consensus about most of the statements from the Summit.
On Tuesday, the foreign ministers will put the finishing touches on the documents before submitting them to the heads of State and Government of the region.
The CELAC was founded in Caracas on December 2-3, 2011, to commemorate the 200th anniversary of Venezuela's Independence and honor the Liberator Simon Bolivar.
The first CELAC Summit was held in Santiago, Chile, on January 27-28, 2013, and the second one took place on January 28-29, 2014 in Havana, Cuba.