The President of China, Xi Jinping, backed Venezuela's efforts to restructure its economy and establish a production model, during official talks with the President of the South American country, Nicolas Maduro.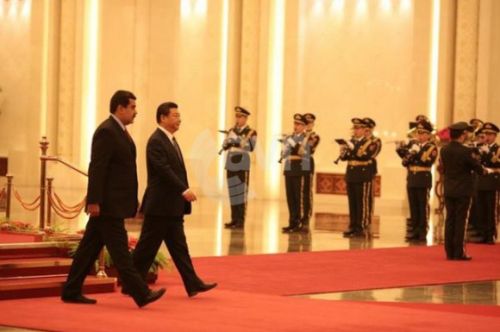 Official versions surfaced after the meeting at the Great Hall of the People indicate that Xi expressed confidence that Venezuela will use the bilateral financial mechanisms and channel more funds to energy, mining, agriculture and industry sectors.
He called for strengthening bilateral cooperation in all sectors and suggested bolstering collaboration in oil exploration, infrastructure and technological innovation.
He also urged building an agricultural development park, and strengthening the people-to-people exchanges and training of personnel.
Maduro, who will attend tomorrow the official opening of the first ministerial meeting of the China-Community of Latin American and Caribbean States (CELAC) Forum, arrived in Beijing after a stopover in Moscow, and will continue touring throughout the member countries of the Organization of Petroleum Exporting Countries.
Venezuelan official sources recalled that the financing mechanisms between these two countries exceed 50 billion dollars, which have supported 256 projects in the South American nation.
China is the largest investor in Venezuela and its second oil customer after the United States, with a volume of 640 thousand barrels per day, according to official statistics.
The two countries, which raised their relations to the level of strategic partnership during the visit to Caracas of President Xi in July last year, were called by the Chinese leader to boost their bilateral ties to a higher level.
He also expressed hope that the general cooperation between China and CELAC, and China and its member countries separately be complementary, and help boost those links to higher levels.
On his part, Maduro explained to the top Chinese leader the steps undertaken by his government to ensure economic recovery, and the implementation of long-term development plans that will expand international financing, and increase investment in local production.
He recalled the friendship between Venezuela and China, and said that the bilateral cooperation is based on mutual benefit and common development. He invited China to join Venezuela in planning new steps on cooperation and exploration of new areas as industry, energy, science and technology and financing.
According to the South American head of state, the China-CELAC Ministerial Forum will expand the bilateral relations and the cooperation of this Asian giant with Latin America.