Pope Francis asked U.S. Congress members today for a more responsible attitude towards the environment , to support immigrants and abolish death penalty, during his speech before the U.S. Congress.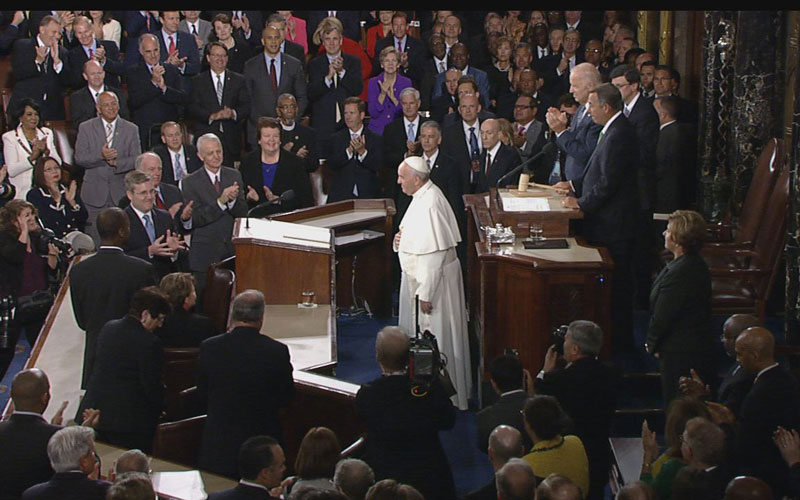 The High Pontiff called to make a correct use of natural resources and correct the damage done by human activity to nature in what he called "our common home".
On immigration he said never to turn their back on neighbors, he said he spoke as a son of immigrants and called to form the new generations on an education inspired in that principle.
We, inhabitants of this continent, do not fear of foreigners, because some time ago we were foreigners, he reminded alluding to the common past shared with a good part of Congress members present in the hemicycle of the Capitol.
He also pleaded for world abolition of the death penalty -still standing in the United States- and said a just and necessary punishment should never exclude the possibility ofr hope and the objective of rehabilitation.
I am convinced this is the best way, because life is sacred, each human person is endowed with inalienable dignity, he added.
The Head of State of the Vatican became the first Pope to address the members of the Capitol in what became one of the historic moments of his visit to this nation of over 70 million Catholics.
In the ceremony also took part judges of the Supreme Court, members of the Cabinet, diplomats, legislators and guests.
Francis made his speech from the platform from where the President says his annual speech of the State of the Union and in the back were Vicepresident, Joseph Biden and the president of the House of Representatives, John Boehner.
After his speech, the High Pontiff went out on the balcony facing the garden west of the Capitol, from where he waved to thousands of citizens who congregated there since the early hours of today, who he blessed, in particular the children, who, he said, were the more important persons.
The head of the Catholic Church arrived at the Capitol a little after 09:00 hours (local time) and was received by Boehner, with whom he talked for a few minutes.
A total of 138 out of the 435 members of the House of Representatives and 26 of the 100 Senators profess the Catholic faith, for 31 percent of all lawmakers, including Boehner, as well as Biden who is also president of the Senate.
At 16:00 hours (local time) Pope Francis is scheduled to fly to New York and at 18:45 he will share the celebration of Vespers with the clergy, priests and sisters at the Cathedral of St. Patrick of that city.