A growing trail of affection and respect will be surely left behind by Pope Francis at the end of his visit today to Paraguay, the last stop of his South American tour.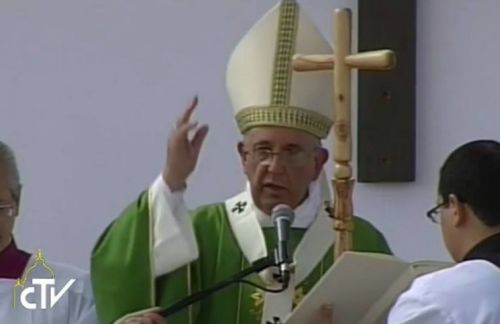 His main event today is a mass at Nu Guasu Park, in Luque, in the Central department, near the Silvio Pettirossi international airport, where one million faithful are expected to gather.
The stage was set by famous artist Koki Ruiz, who adorned it with 200,000 coconuts, 40,000 corn spikes and 1,000 pumpkins.
The figures of Saint Francis of Assisi and Saint Ignatius of Loyola are represented in the altar.
Previously, the Pope will address the inhabitants of the poor Banado Norte neighborhood, in their small chapel of Saint John the Baptist, in Asuncion.
After his mass at Nu Guasu, the Pope will go to the Apostolic Nunciature to rest for a while and later he will meet with young people at Costanera de Asuncion (seaside walk).
His official agenda also includes a visit to the memorial biult at the Ycua Bolanos supermarket, where he will pray for the victims of the tragedy fire of Aug.1st, 2004, when 400 people died.
Pope Francis is scheduled to be in the airport at 19:00 local time to return to Rome, concluding a busy week-long tour that included Ecuador, Bolivia and Paraguay,