Pope Francis arrived today in Kenya and was received by President Uhruru Kenyatta and Cardinal John Njue, among other local civilian and religious authorities.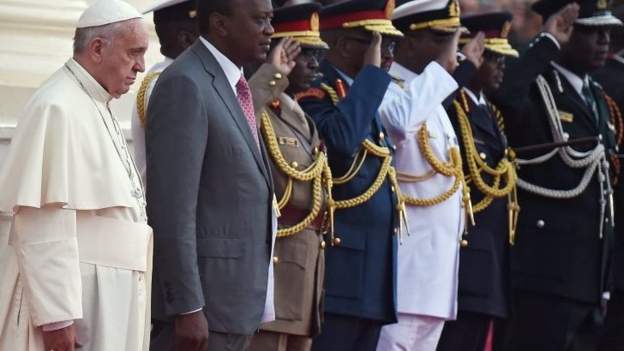 The Bishop of Rome brings in his agenda of homily and bilateral meetings the issues of peace, the testimony of Christian martyrs, inter-religious dialogue and the meeting with poorer and marginalized of the sub-urban towns, according to the spokesperson of the Holy See, Federico Lombardi.
That action will be common for Uganda and the Central African Republic, the two other nations to visit by Pope Francis in the African tour started this Wednesday and that will last until Monday.
The Pope will stay until Friday in Kenya and in his first activity will hold private share with President Kenyatta, confirmed the Holy See Press Office.
Later he will attend a meeting with other Kenyan authorities and the diplomatic corps accredited in the nation, to whom he will deliver a speech in the evening hours.
The Government of Kenya declared tomorrow that the 26 will be a national holiday, because it will be the date of the Pope's homily on the campus of the University of Nairobi.
Thursday he will deliver speeches before an interfaith and ecumenical audience in the Apostolic Nunciature in the capital and to the clergy, religious, religious male and female and seminarians in the sports field of St. Marya's School, among other activities.
The agenda in this country for Friday -final date of his stay in this capital- envisages exchanges with Kenya's bishops.
About 10,000 members of the security forces in Kenya are mobilized full time from yesterday to ensure the safety of Pope Francis, stressed the official spokesman, Manoah Esipisu.
The extraordinary security precautions because of the two-day visit will condition the development of the capital's daily life.
Nearly half million people from across the country, 10 percent of Kenyans Catholics will attend the Masses and speeches the Supreme Pontiff will deliver in this capital.
Underlined the responsible of the apostolic visit of Pope Francis to Africa, Monsignor, Alfred Rotich.
In the three countries included in the journey Francis will deliver 19 speeches and will meet with the Catholic community, Muslims and evangelicals.
This tour begins in a regional context where violence and terrorism are fed by poverty and despair, but also by the extremist indoctrination, noted the media.
In response, added the publication, Francisco insist that it is blasphemy to invoke God's name to justify murder and massacres.
In this scenario, the Pope's pilgrimage is far more significant, as he will tour the African cities streets in his open pope mobile without surrendering to fear, according to the Vatican Insider Website.