Cuban large denomination bills of 200, 500 and 1000 pesos began circulating on Sunday, in order to facilitate transactions in Cuban currency (CUP) and in dollar stores (TRD) as announced by the Central Bank of Cuba (BCC).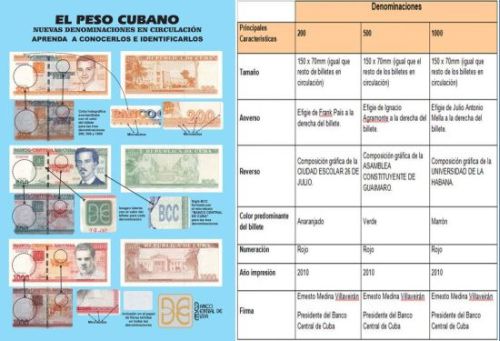 Backed by Resolution No. 4 of January 15, 2015, and published on the same date in the Gazette Extraordinary No. 3, the measure seeks to streamline operations and reduce risk levels by avoiding the use of large amounts of money in low denomination bills.
Francisco Mayobre Lence, vice president of BCC, recently told reporters that the new notes would be put in circulation on February first but gradually, through entities Banco Metropolitano, People's Savings Bank, the Bank of Credit and Trade and the Exchange Houses, known as CADECAs.
He clarified that by now they will prioritize Havana, provincial capitals and some municipalities, which is in line with the level of operations that has manifested in certain places.
He emphasized on the need for people to learn to identify the new banknotes, which among its security measures have two watermarks, one with the image of Celia Sánchez; the number that corresponds to them; the security thread; embossed printing, and the initials of the BCC.
With predominance of orange, the 200 peso banknote has the image of patriot Frank País and in the back an allegory of the School City July 26, and in the 500, in which prevails the green color, has the bust of Ignacio Agramonte, and on the back a painting of the Constituent Assembly of Guáimaro.
The 1000 peso banknote is brown, with the figure of Julio Antonio Mella and a graphic composition of the University of Havana.
Meanwhile, Barbara Soto, commercial vice president of the Cimex Corporation, recently told the Granma newspaper that the measure will prevent a lot of delays in operations, one of the recurring concerns of the population in surveys conducted by his institution.
In recent months the use of CUP in stores that sell in convertible pesos (CUP) was extended and one of the difficulties faced was precisely in the denomination of the bills, because until now the 100 pesos was the largest in Cuba, but most sales in the TRD was done with banknotes of 20 and 50.
There are products whose prices are higher, such as appliances and furniture, and to acquire them the customer has to carry much money in sometimes not optimal conditions, Soto said.
Since the implementation of this new decision, they foresee a decrease of time the client spends making payments and therefore there will be an optimization of the process, said the official.