A meeting between Cuban President Raúl Castro and Executive Vice President of Venezuela Jorge Arreaza in Havana made headlines in local media in Caracas.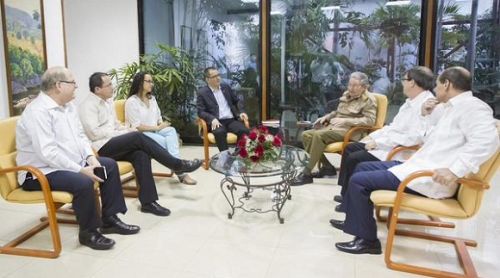 During the meeting, the parties expressed their satisfaction for the excellent state of bilateral relations.
Arreaza conveyed greetings and appreciation from Venezuelan President Nicolas Maduro to Cuba for its firm support to the Bolivarian Revolution.
The leaders also discussed regional issues like the integration process based on peace and the development of the Bolivarian Alliance for the Peoples of Our America-Trade Agreement of the Peoples and the Community of Latin American and Caribbean States.
Arreaza's visit is part of a Caribbean tour of Venezuela's Presidential Commission for Border Issues aimed at presenting Caracas's arguments in the disoute with Guyana for the sovereign over the Essequibo region.
Arreaza condemned in Havana the interference of oil transnational Exxon in the conflict to undermine Latin American and Caribbean unity, says Correo del Orinoco newspaper.
According to the Venezuelan vice presidential office's website, Arreaza also discussed with the Cuban president the need to settle the dispute through the diplomacy of peace and international law.
Arreaza's tour also included Grenada, Dominica, Barbados and Antigua and Barnuda, while Foreign Minister Delcy Rodriguez travelled to Trinidad and Tobago, Saint Lucia and Saint Kitts and Nevis, also as part of the tour of the presidential commission.