Former Argentinian soccer star Diego Armando Maradona and The Cuban Five met in Havana and shared anecdotes and life experiences, as reported by Cuban television.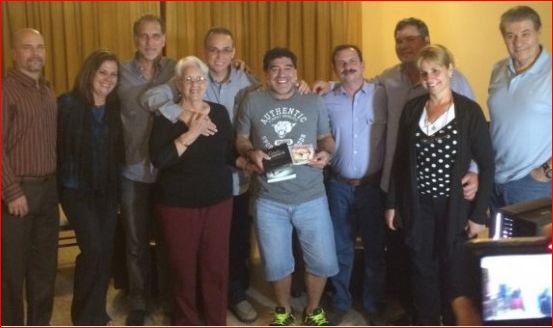 Uruguayan journalist Victor Hugo Morales was also present in the meeting. He is preparing with Maradona here the second season of his television program "De Zurda" (From the Left) for the Telesur network.
Participants described the meeting as unforgettable because of the feelings that came out during it, said the television report.
Gerardo Hernandez, Ramon Labanino, Antonio Guerrero, Fernando Gonzalez and Rene Gonzalez, internationally known as The Cuban Five, were arrested in Miami in 1998 and given unfair, harsh prison sentences for monitoring Florida-based terrorist groups operating against Cuba.
Fernando and Rene returned to Cuba after fully serving their sentences.
Gerardo, Ramon and Antonio returned to Cuba on December 17, in the wake of a decision by U.S. President Barack Obama to release them, as part of a series of measures aimed to normalize bilateral relations after more than half a century of permanent U.S. hostility towards Cuba.