The accompanying delegation of Secretary of State John Kerry to Cuba consists of 19 persons, including government officials and congressmen, who will be tomorrow at the official opening ceremony of the US Embassy.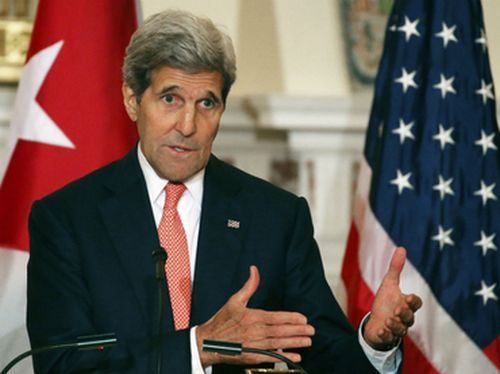 According to an official note from the State Department the group is formed by the Secretary of Western Hemisphere Affairs Roberta Jacobson; Assistant Secretary of the Department of Commerce, Bruce Andrews; and Assistant Secretary of the Treasury, Sarah Bloom Raskin.
Also traveling with Kerry Democratic Senator and President pro tempore of the Senate, Patrick Leahy; Senators Amy Klobuchar and Barbara Boxer; Senator Jeff Flake; Representatives Steve Cohen, Barbara Lee, Jim McGovern and Karen Bass.
In the group are also the chief director of the National Security Council, Mark Feierstein; Chief of Staff to the Secretary of State, Jonathan Finer; the State Department spokesman, John Kirby, and the Assistant Secretary for the Bureau of Democracy, Human Rights and Labor, Tom Malinowski,
The delegation present at the ceremonial act includes the director of the Office of Policy Planning, David McKean; the head of the Office of Protocol, Peter Selfridge; the principal adviser to the Secretary of State, David Thorne; and Assistant Chief of the Joint Staff at the Pentagon, Kurt Tidd.
On July 20 Cuba and the United States restored diplomatic relations, date from which the respective sections of interest, operating in both capitals since 1977, became embassies.
On that date, the Cuban Foreign Minister Bruno Rodriguez, presided in Washington DC the official ceremony of hoisting of the Cuban flag and to reopen the headquarters, located in a central avenue of the US capital.
Edward R. Stettinius was the last secretary of state to visit Cuba in March 1945, under the administration of Harry S. Truman.