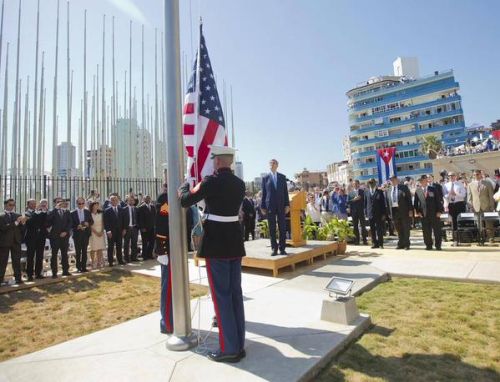 U.S. Secretary of State, John Kerry, presided today the flag hoisting ceremony at the US embassy in Havana, which for manyy is a prediction of better times in the links between both nations.
In a ceremony charged with symbolism, the head of U.S. diplomacy saw the flag floating in the wind, a ceremony that follows long months of talks between Washington and Havana, and which could reach its top expression if U.S. Congress voted in favor of lifting the laws of the blockade imposed on the island since 1961.
Kerry Greats New Start in Cuban-American Relations
John Kerry's Remarks at Flag Raising Ceremony
James Tracy, Mike East y Larry Morris, the three marines who lowered the flag on January 4, 1961, were those in charge of handing to other three men in uniform the banner that now floats in the flagpole in this memorable occasion.
Hundreds of persons inside the embassy yard and from the emblematic Havana sea wall bore witness to what is described as a historic act.
In the surroundings of the embassy, reporters, cameras and photographers of news media all over the world, together with hundreds of Cubans, witnessed an event that was demanded by the international community for many years.
On the Cuban side attended the ceremony Josefina Vidal, head of the US General Direction of the Cuban Foreign Ministry and Jose Ramon Cabaña, chargé d'affaires of Cuba in Washington.