Japanese Government is willing to boost economic cooperation of great importance with Cuba, said today in this city minister of Foreign Affairs Fumio Kishida.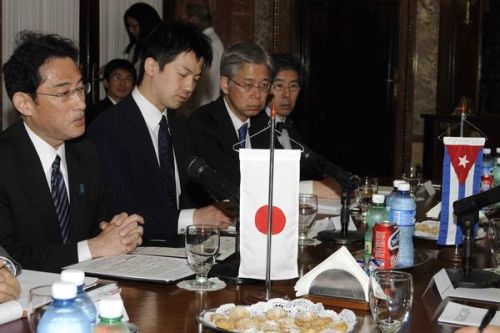 Following the welcome given by his Cuban counterpart Bruno Rodriguez, Kishida said that to his great delight he is the first Japanese foreign minister visiting Cuba.
"Through this visit I would like to take our mutual relations of friendship to higher level based on issues like the support for the updating process of the Cuban economic model", said Kishida.
He also said that his country is willing to consolidate the economic relation of the two countries and for that reason he is accompanied by a delegation of 30 members with a great interest in Cuba.
Meanwhile, Bruno Rodriguez said that there is a traditional relation of friendship between the two countries and also that the mutual ties are a priority; hence Cuba's interest is to deepen links in all fields, including trade, investment and cooperation in all sectors.