Jatibonico Weather Event Described as Tornado
The weather event that affected Tuesday afternoon the central Cuban territory of Jatibonico, in Sancti Spiritus, was indeed an F 1 category tornado, according to the classification scale for tornadoes.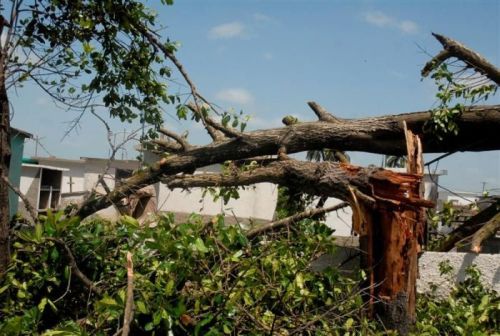 Meteorologist Alain Martínez Riverol, from the Provincial Weather Forecast Department, told Escambray that after evaluating the magnitude of the damages, the experts determined that the typical tornado spiral winds reported were ranked between 150 and 180 kilometers.
He also referred to a specific weather condition identified over the central-north territory of the province, which combined with the existing high temperatures, and resulted in the nearly 12-minute event.
Martinez Riverol remarked that the rain was strong for about a half hour, with lightning that lasted nearly two hours, and the significant presence of hailstones of almost one inch in diameter.
---
---
Make a comment
Escambray reserves the right to moderate comments which are disrespectful, offensive, vulgar, or that attempt against the dignity of either a person or a social group.
The mandatory fields are marked.