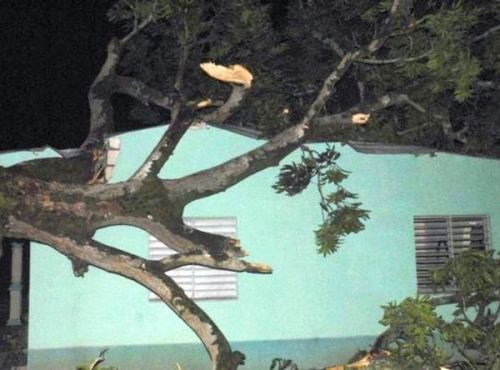 The city of Jatibonico, in the central Cuban province of Sancti Spiritus, was hiy by a severe local storm which caused considerable damage to buildings, the electricity network, and the communication roads.
Rolando Rodríguez Quincoses, president of the Municipal Assembly of the People's Power, confirmed that the climatic event affected almost all the city, and was characterized by the combination of strong winds, hail fall and heavy rains.
As a result of the weather phenomenon, serious damages were reported on houses, as well as fallen trees which blocked the streets, and breaks in the power lines.
Local authorities explained that due to the strength of the winds, two 36-ton counterweight cranes were knocked down before the astonished gaze of the local inhabitants, who said to have never seen such an episode in the area.
According to an in situ report by a team of reporters from Escambray, once the event was over, local clean-up crews began to clear the streets, while experts from the housing offices started to quantify the damages. The electricity service had been totally restored this Wednesday morning.
(With information from Juan Antonio Borrego and Reidel Gallo Rodríguez)