The most important literary event in Cuba, the International Book Fair, opens today in this capital with 199 exhibitors from 31 countries, until February 22.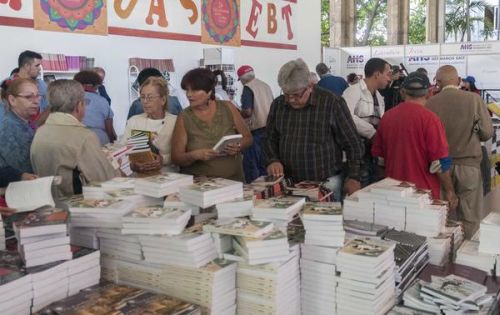 The event's Vice President, Edel Morales, confirmed the launch of books from publishing houses of Argentina, Colombia, the United States, Mexico, Venezuela, Chile, and India, among other countries, and the assistance of many authors from each of the participant nations is expected.
The Cuban publishing houses will put on sale more than 2,000 titles, for total estimated in two million copies, of them, 3,027,400 belong to 854 new books, Morales said.
India, as guest of honor of this 24th edition, will provide the largest number of publishing houses: 16, while the Cuban Book Institute will offer 27 titles from that Asian country with 100,000 copies.
The second mission chief of India's embassy in Cuba, Ravinder Narang, said that a very complete bazar from the country, and demonstrations and yoga classes could be appreciated at the Morro- Cabaña complex during the fair.
A culinary festival will take place those days with typical Indian meals and a marathon of films from that country will be screened at Havana's Riviera movies. This Asian country has one of the largest film industries of the planet.
India is also third in the global production of books, followed by the United States and Great Britain, with the publication of 90,000 new titles each year, 40 percent of them are printed in English language, the official pointed out.
On the occasion of the International Book Fair, an Indian dance group traveled to Cuba to perform in the opening ceremony today, and later in stages of the Cuban provinces of Pinar del Rio and Havana.
This year's literary event will be dedicated to Cuban writers Olga Portuondo and Leonardo Acosta, the latter winner of the 2014 National Music Prize.
According to the organizing committee, the event will later travel to the country's provinces with its many offers for readers.