Relations between India and Cuba have been traditionally warm and friendly, and marked by the convergence of interests on global issues, said today in a statement the Foreign Ministry of the South Asian nation.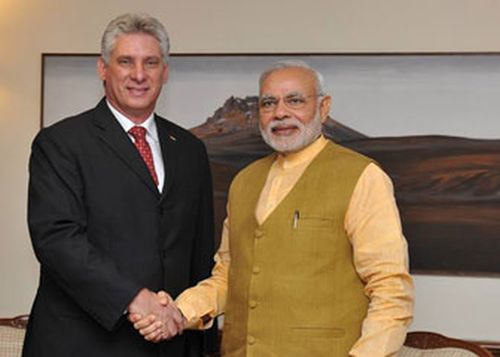 On the occasion of the 55th anniversary of the establishment of bilateral diplomatic ties, Cuban First Vice President Miguel Diaz-Canel, began on Monday a two-day official visit to India at the invitation of his counterpart, Hamid Ansari.
The note of the Ministry of Foreign Affairs noted that the Cuban leader was welcomed by Prime Minister Narendra Modi; by Vice Minister Mohammad Hamid Ansari, by Foreign Minister Sushma Swaraj; and President Pranab Mukherjee.
It further stressed that the parties had broad discussions on bilateral relations and discussed various regional and international issues of mutual interest.
This is the last visit in a series of high-level contacts between India and Cuba in recent years, which has further strengthened closer and friendly relations between the two states.