Hundred followers of the Citizen Revolution have reaffirmed their support to President Rafael Correa and wait for opponents to begin a national strike today.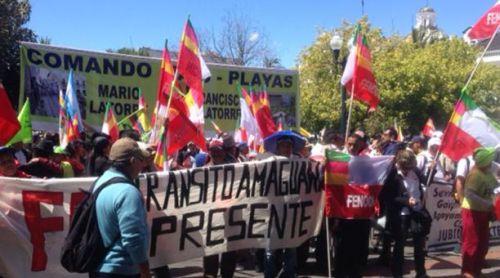 Facing the call to work stoppage, the president called again for dialogue, and warned of a permanent war and internal soft attack that Ecuador is called as conservative restoration.
Those elites, among other practices, use the brutal onslaught through illegal and illegitimate methods against a government such as Ecuador, with immense democratic legitimacy and popular support, Correa stressed.
He denounced that with those destabilizing actions, the national oligarchy intends to give it a soft coup d'etat.
Despite the opposition call of the United Workers Front and a fraction of the Confederation of Indigenous Nationalities of Ecuador, the supporters of the Citizen Revolution camp in front of the Carondelet Palace, seat of the government, support Correa.
The Independence Square represents social, peasant organizations, workers and Afro-Ecuadorians, carrying banners supporting the president's administration and the call for a national dialogue.
The massive call for talks started in June, after Correa presented projects to the laws of inheritances and capital gains, used by right-wing groups to incite violent marches against the government and seek destabilization.