Young Cuban artists will give tonight a great concert in the emblematic University of Havana stairway in solidarity with the people and government of Venezuela, in view of the recent U.S. aggressive escalade against the South American nation.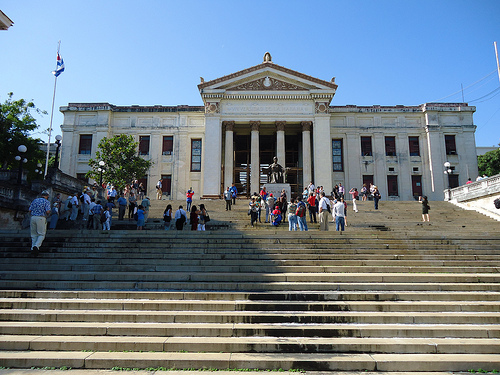 Adrián Berazaín, Patricio Amaro, Raúl Torres, Tanmy López, the group El niño y la verdad and Marta Campos, together with other guests, will show with their art unconditional support of the Cuban people to its South American brother before the recent actions from Washington, said student leader Arianna Guerra.
Guerra, vice-president of the University Student Federation (FEU), described as arbitrary the decision of the United States administration headed by President Barack Obama, of considering Venezuela as a threat to the U.S. national security.
In the concert for peace, justice and Latin American unity, where Rene Gonzalez, hero of the Republic of Cuba, will raise his voice together with that of the new generations, will be accompanied by Venezuelan youths studying in Havana and the surrounding provinces.
Guerra also assured that present in the rally will be Ali Rodriguez, ambassador of Venezuela to Cuba, as well as diplomats of other Latin American nations that express their solidarity with the cause of Caracas.