Cuba is inserted in the development of inmunotherapies against cancer, with several projects of research and biotechnological products in trials for the treatment of this condition.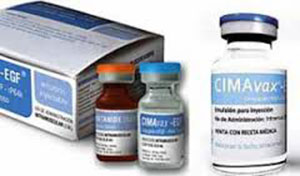 These products include Cimavax EGF, a therapeutic vaccine for advanced lung cancer.
It was developed in the Center of Molecular Immunology (CMI). The results are presented at an international workshop opened last Tuesday in Havana, with the presence of specialists of Sri Lanka, Serbia, Peru and Costa Rica.
In statements to Prensa Latina, Agustín Lage, director of the CMI, explained that Cimavax EGF is opening road in the world.
Several clinical trials are underway in countries of Europe and Latin America. The interest in the product is growing , as it was shown by American scientists who recently visited the island.
It is shifting the burden of cancer desease in the population, not because there is more cancer cases, but because people live longer, he said.
' Malignant tumors, just as other diseases such as strokes and heart problems increase with age, so to the extent that we have more people in old age, there will be a higher prevalence of cancer. At the same time, patients have more survival, because the treatments are better ', he said.
' This positive development demands more drugs, because these are long-lasting treatments. It carries out the necessity of having more factories,and a more productive scale, he added.