The agreements reached by the presidents Nicolás Maduro Juan Manuel Santos, for the gradual normalization of the situation along the border, keep this nation expectant.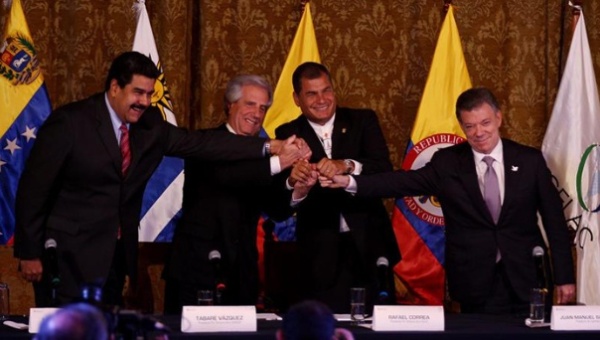 During a meeting in Quito, Ecuador, the two leaders agreed to solve jointly the persistent problems in the border area through a plan based on respect and adherence to the international law.
With special interest Venezuelan authorities and the media await a meeting of ministers from both countries to be held tomorrow in this capital, which aims to address sensitive issues such as smuggling, drug trafficking and paramilitary actions present in the border region.
Venezuelan television also celebrated agreements as the immediate return of the ambassadors, the promotion of the coexistence of models, the enhancement of unity and dialogue among historically linked nations and the accompanying of Ecuador and Uruguay in the talks.
Both heads of state committed to build a program to find solutions to border problems and promoting good neighborliness and development.
According to the Venezuelan president, the agenda will contribute to clear matters affecting relations on the border, and Colombia expressed its desire to work together in the fight against criminal gangs, drug trafficking and smuggling.
The conflict between Venezuela and Colombia began a month ago after a paramilitary attack on a patrol of the Bolivarian Army, which led to the closure of the passage to and from the state of Táchira.
Caracas ordered special security measures in several municipalities of Táchira and then extended them to the states of Zulia and Apure to combat paramilitarism and the smuggling of fuel, food and essential products to the neighboring country.
Colombia claims that during the process -which recognizes as a right of Venezuela- violations against its citizens and raids in its airspace took place, both issues rejected by the Bolivarian Government.