Bolivian President Evo Morales said today shortly after being sworn in for 2015-2020 that it is a huge thrill to lead the country for another five years.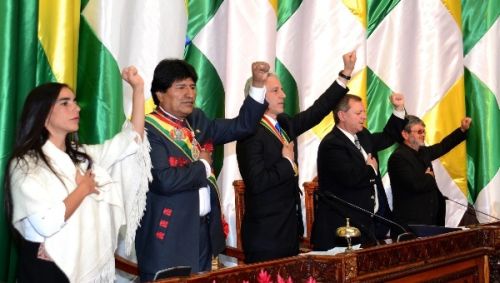 It's a grate thrill to be here and take responsibility for leading the country for another five years, highlighted from the seat of the Legislative Assembly, where he received just before the attributes inherent to his office.
We are serving nine years of our democratic and cultural revolution, he remembered and recalled that since 2005 to date, his party Movement Toward Socialism (MAS), won seven elections, provided with more than 50 percent of the vote, sometimes, even over 60, as last October, when he was re-elected with 61.3 percent.
Moreover, recalled difficult times traversed by the Republic, even when there was no democracy and coups succeeded.
A mid-60s there were times with two presidents, two general René Barrientos and Alfredo Ovando one ruled from the Palacio Quemado and the other from the General Staff.
He recalled that in other years were three presidents in 12 months, synonymous with political instability.
Morales took stock of the achievements of his government in the economic section and boasted of growth in different areas, including social investment, GDP, tax collection and international reserves.
"We now have more than 15 billion dollars in international reserves, and when we came to power was only 700 million thousand, all that could raise in 180 years', he said.
The country's first indigenous president also emphasized the transfer of resources to governments, municipalities and universities and wage growth and investment, with more than two billion, only hydrocarbons in the last year.
In 2006 we were told that if we nationalized hydrocarbons would not have investments, which then did not exceed 200 million dollars.
Morales also analyzed progress in eradicating extreme poverty, which dropped significantly from 2005 to date, as a result of communitarian socialism and the struggle for equality for all Bolivians.
Notable indicators that helped reduce poverty, citing electricity, drinking water, household gas or the delivery of housing, priorities of his government; although he admitted that it is necessary to promote the construction of sewers.
Six heads of state of Latin America and the Caribbean and prime ministers, vice presidents and chancellors of Asia, Africa, Europe and Latin America and the Caribbean participate at Morales inauguration.