Federica Mogherini, high representative of the Union for Foreign Affairs and Security Policy, met with Cuban First Vice President Miguel Diaz-Canel in Brussels, Belgium.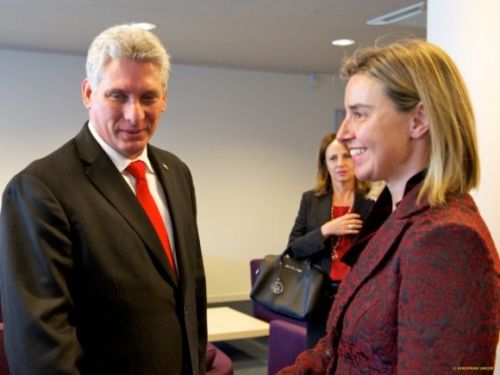 Diaz-Canel leads Cuba's delegation to the Second Summit of the Community of Latin American and Caribbean States (CELAC) and the EU, gathering together in the Belgian capital representatives of 61 countries and international agencies.
We hope the summit will see a constructive dialogue to relaunch relations between the CELAC and the European Union, Cuban First Vice President told the press as he left the meeting.
The meeting with Mogherini took place in times in which Havana and EU are making progresses in negotiations started in 2014 for a Political Dialogue and Cooperation Agreement.
Brussels and Havana already held three rounds of talks and the fourth one is scheduled for June 15-16 in the city, after the summit between CELAC and EU.
Mogherini carried out a visit to Cuba in March this year, and was welcomed by President Raul Castro.