The Domadores (Wranglers) of Cuba kept their pace, and defeated Russia in the fifth stage of the 2015 World Series of Boxing, 4 points against 1, in the match in Pool A Friday.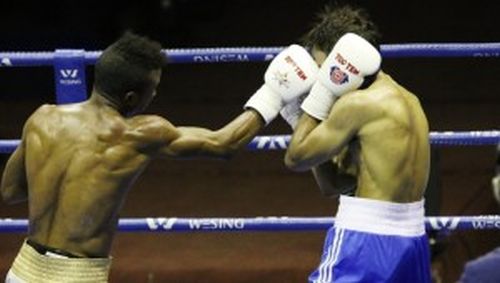 Flyweight fighter Yosvany Veitia (Cuba) opened the winning path and defeated rookie Ovik Ogannisian 3-0 with a precise punch and better technique.
Later, lightweight Lazaro Alvarez, a bit out of distance in the ring, had to use all of his boxing arsenal, to defeat another rookie, Artur Subkhankulov, by 2-1.
Russia cut away 1-2 with welter Radzhab Butaev against Roniel Iglesias 3-0.
the fighter from Europe, unbeaten in four previous fights, won his intense fighting preparation and great physical strength against Iglesias, to beat him 3-0.
The WSB monarchs resumed the path and reached 44 wins against only six failures, with the victories of Julio Cesar la Cruz (light heavyweight) and super complete Leinier Pero.
La Cruz, double world champion, beat his contender 3-0 and Pero turned to his best boxing shape and technique, to beat Maxim Babanin by the same score.
Cuba is still leading Pool A, with 30 points and nine over Russia, which has a postponed match against the Algeria Desert Falcons.