Cuban Vice President Jose Ramon Machado Ventura on Sunday called on the new generations to remain faithful to the homeland and the Revolution.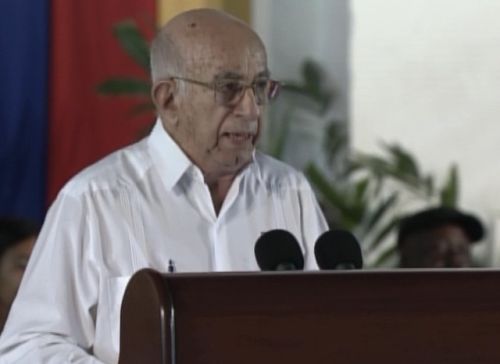 In his speech at the main event on the 62nd anniversary of the attacks on the Moncada and Carlos Manuel de Cespedes garrisons, the Day of National Rebelliousness, Machado Ventura reviewed history briefly and noted the fighting spirit of the residents of this eastern Cuban province.
He recalled the leader of the Revolution, Fidel Castro, who said that historic memory must not be forgotten, because it is the support of values, ideology and awareness.
We will work so that the current and future generations of Cubans always keep the dignified legacy of the homeland's heroes alive, because they are the paradigm of a nation, he stressed.
He thanked all friends of Cuba, including Venezuela and Ecuador, for their unselfish assistance and solidarity in the extraordinary restoration of this city, affected by Hurricane Sandy a few years ago.
We repeat, on behalf of everyone, our eternal gratitude for such a noble gesture, the Cuban leader stressed.
A long and complex path to the normalization of relations between Cuba and the United States has begun, a process that includes the lifting of the economic, commercial and financial blockade that Washington has imposed for more than half a century and the devolution of the territory illegally occupied by the Guantanamo base, said Machado Ventura when referring to the latest developments in the country.
We are only nine months from the Congress of the Communist Party of Cuba (PCC), the event that will allow us to review the implementation of the Guidelines of the Economic and Social Policy.
The meeting will also follow up on the objectives of the first PCC national conference, and will plan the party's work to continue building a prosperous and sustainable socialism.
After Machado Ventura's speech, President Raul Castro addressed the audience and said, "I am leaving with the faithful hope that Santiago will always be Santiago".