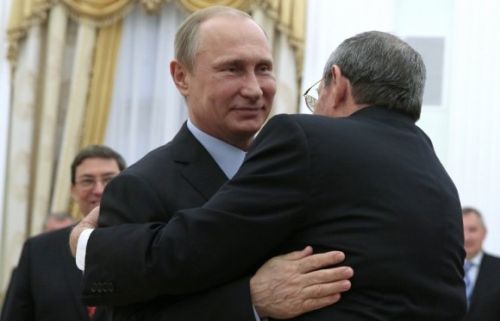 Cuban President Raul Castro continues his working visit to Russia on occasion of the 70th anniversary of the victory over fascism and in coincidence with the 55 years of the re-establishment of diplomatic relations.
Invited by statesman Vladimir Putin to the official celebrations, on May 9, the Cuban president stated yesterday that he could not miss in Russia this celebration for the day of the then Soviet Union peoples' Great Victory.
After being welcomed by Putin at the Kremlin, Raul Castro remembered the celebration of another important date for the two countries, this May 8, when marking 55 years of the re-establishment of diplomatic ties.
I do not have to characterize the quality of the Russian-Cuban relations, they have a long history, said the Russian statesman after underlining the historic event.
After holding talks yesterday in private, the two presidents exchanged with delegations of the two countries on the course of bilateral relations, according to a note from the presidential press service.
Russian Vice President Dimitri Rogozin -co president of the intergovernmental commission-, Economic Development Minister Alexei Uliukaev, Trade and Industry Minister Denis Manturov, Deputy Foreign Minister Serguei Ryabkov, and other officials, participated in the meeting.
The island's official delegation is made up of Vice President of the Council of Ministers, Ricardo Cabrisas, Foreign Minister Bruno Rodriguez, Army Corps General and Minister of the Revolutionary Armed Forces, Leopoldo Cintra Frias, and ambassador to Russia, Emilio Lozada.
At the end of the meeting, the Cuban statesman gave Putin a piece of work by artist Alexis Leyva (Kcho), showing an old riffle PPSh with roses on its tip and an inscription on the base stating: "Soviet victory over fascism is the foundation of the new Russia."
Third since 2009, Raul Castro's current visit takes place in the context of the successful holding of the Intergovernmental Commission for the Economic-Commercial and Scientific-Technical Collaboration, held in Kazan, on April 22, co-chaired by Ricardo Cabrisas, and resulted in a dozen documents sealed in many fields of the Russian-Cuban cooperation.
According to the official program, the Cuban president attends today a lunch on behalf of the host head of State, and as previously announced, he will carry out a courtesy visit to Patriarch Kiril, primate of the Russian Orthodox Church.
Raul Castro will also attend on May 9 the ceremony of laying a wreath at the Tomb of the Unknown Soldier, at the foot of the Kremlin Wall, shortly before the military parade at the Red Square.