The 10 permanent commissions of Parliament continue Sunday their work on the second day of sessions focusing an assessment of processes in different sectors of the Cuban society.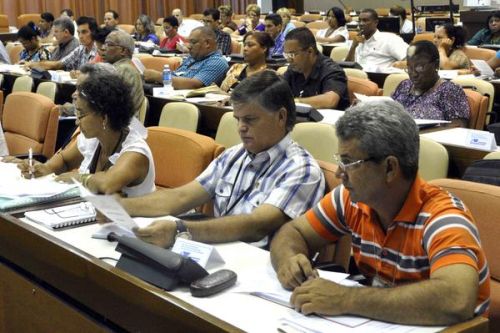 The sessions will conclude on July 15 at the Havana Convention Center with the plenary meeting in the 5th Ordinary Period of Sessions of the 8th Legislature.
Issues of the national economy, budget execution in the first half of the year and the approval of the report to be presented to the National Assembly of the People's Power based on the report of budget liquidation of 2014 are being dealt with by the Economic Affairs Commission.
The commissions of Industry, Constructions and Energy, and Attention to Services are assessing the fulfillment of programs of production and commercialization of construction materials, housing and the granting of subsidies and bank credits.
The Commission of Attention to Services is discussing the performance of business, gastronomy, services and the new forms of management, among other issues.
On the first day of sessions by the working commissions yesterday. Director General of United States Affairs in the Foreign Ministry of Cuba, Josefina Vidal, said that on July 20, coinciding with the reestablishment of diplomatic relations between Cuba and the United States, the ceremony of reopening of the Cuban Embassy in Washington will be held.
"In the next few days, more information and details will be given about this event," she told journalists after speaking before the Foreign Affairs Commission of the unicameral Parliament of Cuba, where she was invited to give an update about ongoing talks between Havana and Washington to resume links.
The members of the said parliamentary commission expressed their firm solidarity with the National Assembly of Ecuador and President Rafael Correa against destabilizing attempts by oligarchic groups.
The National Assembly has 162 members, over 48 percent of them women. Its president is Esteban Lazo and its vice president is Ana Mari Machado.