A Cuban medical brigade traveled to Chile this Thursday, to assist people affected by severe flooding and heavy rains.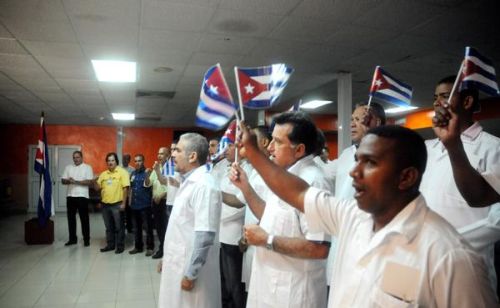 The group, made up of 15 professionals -nine physicians, four bachelor in nursing, and two professionals in hygiene and epidemiology- was bid farewell by Health Minister Roberto Morales, who recalled that Chile was the first country where Cuba began the medical collaboration in 1961, after an earthquake.
The island's professionals went for a second time to that country in 2010, also after a seism, with a much greater brigade that worked in two field hospitals.
This time, a small group is working in that South American nation, which along with the Chilean health system, will contribute to mitigate damages the country is currently facing, Morales stressed.
Once more, an army in white coats will give a solidarity and human response to a people that need it, and we are sure that we will receive them with the mission accomplished, as we have already received the two first brigades that returned from fighting Ebola virus in West Africa.