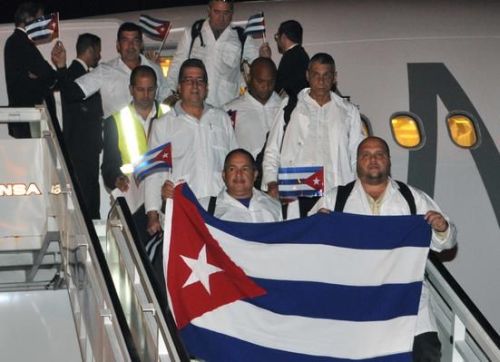 Cuba will continue fighting for a comprehensive health system and promoting scientific-technical production and research in order to solve the problems of the population, pointed out today the Public Health Ministry of the Island.
An editorial published by the daily Granma noted that the Cuban health system's main strength is the human capital that ensures the health of the people and at the same time international collaboration.
The work of the Cuban Medical Brigade in the fight against Ebola caught the attention of the international community and grabbed headlines in the mainstream media, recalled the newspaper.
The results of health in Cuba are the product of political will, social and inter-sectorial participation and constant development of a system based on the ethic formation of human capital.
The newspaper denounced the obstacles and attempts to impede or destabilize a health system that, despite its own economic constraints of underdevelopment and the US blockade, is universal, free and accessible to the entire population.
Cuba has one of the best indicators of the world in the doctors per capita, with more than 85,000 physician, which s is 7.7 every thousand inhabitants, which is one doctor for every 130 people.
Currently, more than 50,000 employees of the health system of Cuba meet mission in 68 countries, half of whom are doctors.
More than 56, 500 students are in Cuban classrooms, of which about 10,700 are from other nations. Similarly, more than 25,000 specialists are being trained, including 2,201 foreigners.
The scientific and technical quality of health personnel, human values and the doctor-patient relationship, among other qualities, determine their demand in many parts of the world, and made them also become targets of brain drain, added the newspaper.
One of the main authors of brain robbery is the United States that since the early years of the triumph of the Revolution continues its destabilizing interest through drawing, selective emigration and Cuban Adjustment Act.
It also maintains the Parole Program for Medical Professionals (Cuban Medical Professional Parole Program) in force, to encourage the defection of professionals. while serving missions in third countries.
According to the editorial, the health professionals that under the terms of the updating of the migration policy went out of Cuba, whether for economic, family or professional reason, including victims of brain robbery practices, can return to the national health system in similar conditions to those they had.