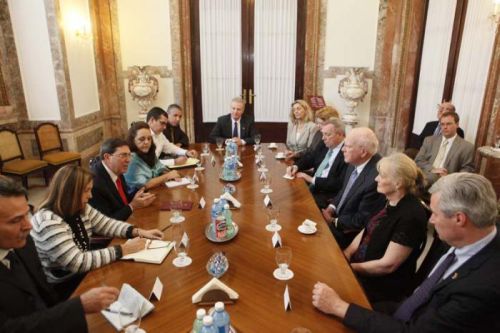 Foreign Minister Bruno Rodriguez met with senators and representatives of the U.S. Democratic Party, with whom he discussed issues of interest for both countries.
According to a note issued by Granma newspaper, senators Patrick Leahy (Vermont), Richard Durbin (Illinois), Sheldon Whitehouse (Rhode Island) and Debbie Stabenow (Michigan), as well as representatives Christopher van Hollen (Maryland) and Peter Welch (Vermont), all of them from the Democratic Party, attended the meeting.
Cuba and U.S.A. to Hold Talks in Havana
On the Cuban side, the director general of the U.S. department at the Ministry of Foreign Affairs, Josefina Vidal, and the Head of the Cuban Interest Section in Washington, Jose Ramon Cabañas, were also present.
The delegation from the two countries will hold talks at the Havana's Conference Center on January 21-22, to discuss migration issue, and develop the first meeting on the process of restoration of diplomatic relations.
According to sources from the Ministry of Foreign Affairs, participants in the meeting will also talk about other bilateral issues, including areas of cooperation in issues of mutual interest.