The caucus of the African National Congress (ANC) in South Africa's parliament now receives the Cuban Five who arrived in the country last Sunday.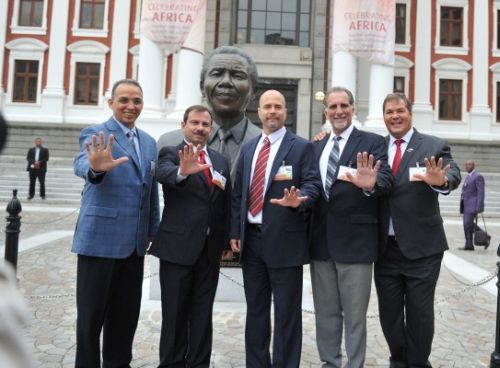 Since their arrival, Gerardo Hernandez, Ramon Labañino, Antonio Guerrero, Fernando Gonzalez and Rene Gonzalez have completed a program that stands out above all the existing admiration and respect here for the Cuban heroes.
Vice President of the National Assembly, Lechesa Tsenoli said that the Five -as they are identified all over the world- are an inspiration.
In exclusive statements to Prensa Latina, Tsenoli highlighted the example of resistance that showed these men from US prisons, where they were confined for an extended and unfair time.
The legislator also stressed the solidarity contribution of Cuba to the African cause, a feeling that is repeated permanently.
Since their arrival on June 21, when they were welcomed ANC secretary general, Gwede Mantashe, the Five have had the chance to talk with the top leadership of the Congress of South African Trade Unions (Cosatu) and the South African Communist Party (SACP).
They also received embrace of members of the Association of Friendship with Cuba in South Africa (Focus) and the Association of Democratic Lawyers (Nadel) that did so much to secure their release.
The visit of Gerardo, Ramón, Antonio, Fernando and René end on July 3 and falls, as the ANC reported, in the context of the celebrations of the 60th anniversary of the Freedom Charter (Freedom Charter).
According to the program, they will travel tomorrow to the Gauteng province to complete a tour of five of the nine South African provinces.
Then they will travel to Namibia and will close the tour of Africa in Angola, where three of them (Gerardo, Fernando and René) were internationalist fighters.
Decorated with the honorary title of Hero of the Republic of Cuba, the Cuban Five warned his country about the criminal plans of anti-Cuban groups with impunity on US soil.