A meeting at the University of Limpopo, northern South African province, was the last activity in this country of the five Cubans who were held in U.S. prisons for fighting terrorism.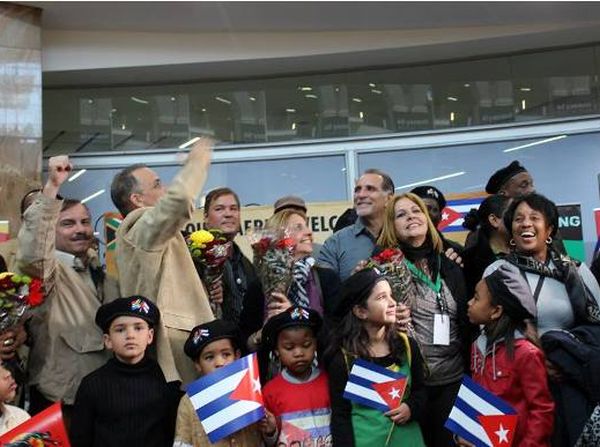 So far, the expected visitors knew Western Cape, Gauteng and Limpopo, although Free State and KwaZulu Natal were also included in the program.
The Cuban Five talked at full theater with students and workers of the higher education center, as well as with other participants at an event that for many is still a dream.
Before that, during an exchange of the Cuban Five with Cuban collaborators, Doctor Rebeca Peña told Prensa Latina that there were many years asking and demanding the release of Gerardo Hernandez, Ramon Labañino, Antonio Guerrero, Fernando Gonzalez and Rene Gonzalez.
"The happiness we receive on December 17, 2014, when we saw Gerardo, Ramon and Antonio in Cuba is still with us," Peña said.
Since June 21, when they arrived in South Africa, the Cuban Five have fulfilled an intensive program of activities.
They visited Western Cape, where they were welcomed at the headquarters of the Parliament, in the city of Cape Town, while in Gauteng, they met with provincial authorities.
They also attended the celebrations for the 60th anniversary of the Freedom Charter.
A special gesture was the courtesy by President Jacob Zuma and the top leadership of the African National Congress (ANC), who met the Cuban Five and exchanged opinions with them.
Zuma talked with Gerardo, Ramon, Antonio, Fernando and Rene in a private meeting for more than two hours at the end of the festivities on the Freedom Charter.
The talk with anti-Apartheid fighter Winnie Madikizela Mandela was also special. After greeting the Cuban heroes at the official event on the Freedom Charter on June 26, she promised that she would accompany them the next day in their tour of the Nelson Mandela Museum.
Winnie also accompanied them in their visit of the Hector Pieterson Museum, both in Soweto.