Gerardo Hernandez, Ramon Labañino, Antonio Guerrero, Fernando Gonzalez and René Gonzalez, the Cuban antiterrorist fighters widely known as the Cuban Five, were decorated Tuesday afternoon in Caracas.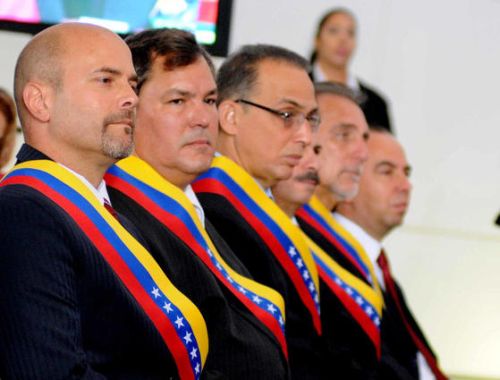 They were warded the Libertadores y Libertadoras de Venezuela Order, by the hands of Venezuelan President Nicolas Maduro, in virtue of the example of fidelity and resistance they constitute for mankind.
The decree was personally signed by President Nicolas Maduro himself.
After Maduro decorated the Cuban Five and placed the bands over their respective shoulders at the National Pantheon where the remains of Simon Bolivar are now resting, Maduro recognized the Cuban Five as heroes of the great Latin American homeland.
The Venezuelan President condemned the retention of the five long years in US prisons and said that in that country, there is a machinery of control, manipulation and media disinformation that prevented show the truth of imprisonment of the group in 1998 and their sentences by working for the sake of the safety of Cuba, its people and its visitors.
He also denounced US plans of aggression towards Latin America, particularly the actions against Cuba in the 1990s of the last century and the current interference in the internal affairs of Venezuela.
The victory secured the release of the Five shows worth face adversity said. On behalf of the Cuban Five Fernando Gonzalez thanked the delivery of the order and pointed to all his oath and his companions to fight for Latin America, made before the tomb of the Liberator Simon Bolivar.
This was also the oath of the late Venezuelan President Hugo Chavez, who was Cuba's best friend and the best friend of the Five, he said. Gonzalez thanked Maduro and people of Venezuela for the years of Solidarity, which was essential for the release.
In addition, he reasserted the commitment of the Cuban people with Venezuela in confronting the hostile US policy toward the South American nation. Venezuela is attacked because here revived the ideals of Bolivar, which is against US interests, he said. Prior to the ceremony, the president and Cuban visitors laid a wreath to the Liberator of America. Antiterrorist remain in Venezuela until Saturday to come.
The trip is the first made by the group outside Cuba since their release.