The visit of the five Cubans to Angola ends today with a meeting with Vice President Manuel Vicente and a gathering at the headquarters of the Organization of Angolan Women.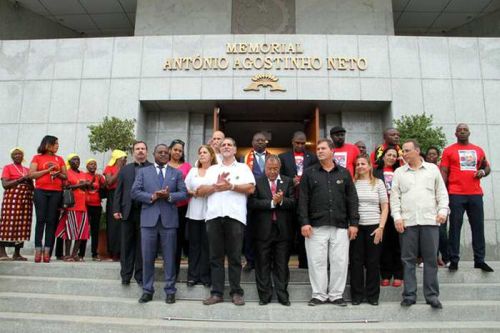 This country is the last destination of an African tour of the Cuban Five, as they are internationally known, which firstly took them to South Africa and then to Namibia.
As part of the program, the revolutionary fighters laid a wreath on July 6 at the monument to Agostinho Neto, the first president of this African country.
Later, they had a courtesy meeting with the Vice President of the ruling Popular Movement for the Liberation of Angola, Roberto de Almeida.
During that first day, the Cuban Five also visited the Alto Las Cruces cemetery to lay a wreath in the place where the remains of the internationalist combatant Raul Diaz Arguelles rested.
Diaz Arguelles died on December 11, 1975, in the southern Angolan province of Cuanza Sul, as a result of injuries caused by an anti-tank mine explosion that destroyed his armour.
Three of the Cuban Five know this nation because they were part of the Cuban internationalist military contingent that, in support of the Armed Forces for the Liberation of Angola, fought the Apartheid regime.
Gerardo Hernandez, Ramon Labañino, Antonio Guerrero, Rene Gonzalez and Fernando Gonzalez were detained by U.S. authorities in 1998, and condemned to disproportionate sentences for alerting about terrorist actions against Cuba.
Of them, Hernandez, Labañino and Guerrero arrived in Cuba after being released on December 17 -Fernando and Rene had previously returned after completing their sentences-, in a context marked by the announcement of Havana and Washington to move towards the normalization of relations.
Angola was the third stop of the African tour (from June 21 to July 8) of the Cuban Five, where they complied with an invitation by the African National Congress (ANC), of South Africa, and the South West Africa People's Organization (SWAPO), of Namibia.