Cuban First Vice President Miguel Diaz-Canel met the speaker of the Mexican Senate, Miguel Barbosa, who headed the delegation to the two-day Cuba-Mexico Interparliamentary Meeting held in Havana.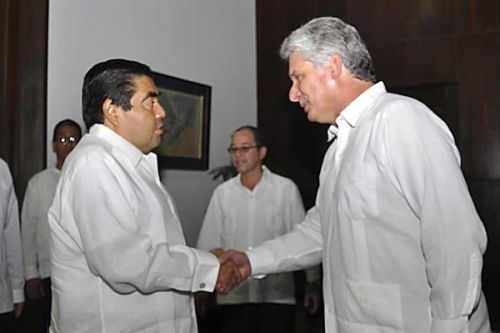 Diaz-Canel and Barbosa expressed satisfaction with the successful results of the meeting, which was held in an atmosphere of friendship and respect that characterizes the fraternal ties between the two countries, as well as with the progress made in bilateral relations over the past few years.
The first vice president expressed gratitude for the repeated expressions of solidarity from the Mexican Congress to Cuba and, particularly, its support for the fight against the economic, commercial and financial blockade imposed by the United States for more than half a century, according to an official press release.
The two leaders discussed other issues of national, regional and international interest.
During the meeting, Barbosa was accompanied by Mexican Ambassador to Cuba Juan Jose Bremer.
Also present at the meeting were Cuban Parliament President Esteban Lazo, and Yolanda Ferrer, president of the International Relations Committee of that legislative body.