First Vice President of Cuba Miguel Diaz-Canel arrived in Namibia, to attend the inauguration of the President-elect Hage Geingob on Saturday 21 March.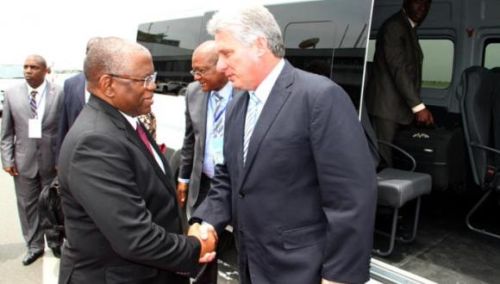 Diaz-Canel's agenda also includes his participation in the celebrations for the 25th anniversary of the National Independence Day, which is expected to be attended by at least 10 Heads of State.
This is the final stage of a tour of the First Cuban Vice President in three African countries, which included South Africa and Angola, where he traveled on a flight that departed from Luanda bound for Windhoek.
Upon arrival at Hosea Kutako International Airport, the visitor was welcomed by Deputy Prime Minister of Namibia, Marco Hausiko; and Giraldo Mazola, Ambassador of the island to the southern African nation.
At the airport, Hausiko welcomed Diaz-Canel and invited him to appreciate the presentation of a group offering typical-dance performances.
During his visit, Cuban First Vice President will meet with the highest Namibian leaders and the founding father of the nation Sam Nujoma.
He will also meet with Cuban collaborators and will visit centers of historical interest, according to the program issued by Prensa Latina.
Diaz-Canel, who is heading for India on Sunday, leads a delegation composed of Gerardo Peñalver, Director General for Bilateral Affairs at the Ministry of Foreign Affairs of Cuba, and Angel Villa, Director for Sub-Saharan Africa.