Cuban civil society today held an event where issues such as democratic governance and citizen participation were addressed, towards the Civil Society Forum of the Seventh Summit of the Americas, to be held in April.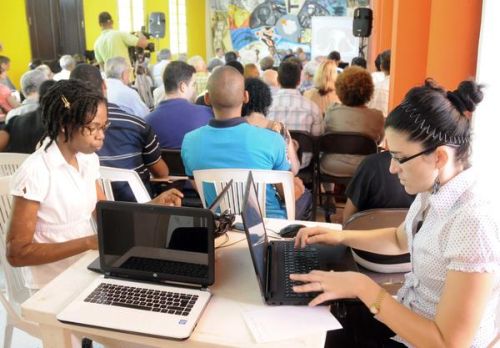 Âá In this regard, the religious leader Orlando Gutierrez expressed his solidarity with Venezuela due to the US hostile policy and demanded respect for the Bolivarian Constitution and the right of the South American country to self-determination, and forging its own path, he said.
In addition, journalist Yoerky Sánchez enumerated the great possibilities of the Cuban youth to participate in the political arena and in the process of decision making based on the characteristics of the electoral system of the island, which allows being elected councilor since the age of 16 years and deputy since 18.
Meanwhile, religious Joel Suarez from the Martin Luther King Memorial Center proposed to highlight the contributions in terms of democracy and citizen rights of the constitutions of countries such as Venezuela, Bolivia and Ecuador.
In trade union matters -Heriberto Gonzalez, member of the America's Office of the World Trade Unions Federation- highlighted the participation of Cuban workers in the social life of the country and the guarantees of their rights.
Another recommendation of the participants was to raise the claim of promoting the fight against the economic blockade imposed for over half a century to Cuba by the United State, despite the international rejection.
In addition to democratic governance and citizen participation in this Cuban Civil Society Forum, other issues such as Migration, Security, Energy, Environment, Health and Education were also addressed.
Cuba's achievements in education and health -recognized worldwide- would not be possible without the joint participation of actors and social organizations, scientific societies and professional associations, said Jaime Gomez, moderator of a working group based in Casa del ALBA Cultural.
With this forum, the Cuban civil society aims to encourage reflection and make recommendations to the national delegation representing Cuba in Panama, as well as to generate concrete actions to address the current challenges in the Americas.