The five Cubans who were held in U.S. prisons for fighting terrorism concluded a brief but intense visit to El Salvador, which was described as historic by President Salvador Sanchez Ceren.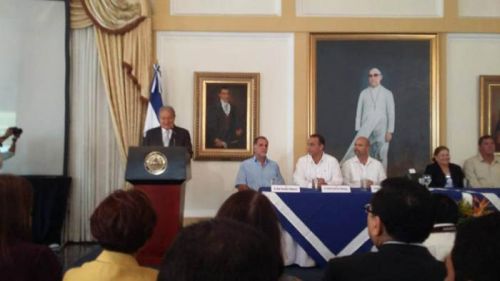 Gerardo Hernandez, Ramon Labañino, Antonio Guerrero, Fernando Gonzalez and Rene Gonzalez, accompanied by many of their relatives, complied with a busy agenda yesterday that included a reception by the head of State at his residence.
"This is a very special day for the Salvadoran people, five heroes, five antiterrorist fighters, five brothers of ours who champion the dream of freedom for the Latin American peoples, "said the president while welcomed them in the land of Monsignor Romero.
Sanchez Ceren, who for years also embraced the cause of the Cuban Five, as this group of Cuban fighters is internationally known, said their presence in El Salvador fill them with hope because they symbolize the triumph of life over terrorism and death.
He recalled that the Salvadoran people took an active part in the chorus of voices from Latin America and the world that tirelessly worked for their release.
"We accompany the struggle of their mothers, wives and children, with whom, along with my wife, Margarita, I had the opportunity to meet not only in Cuba but also in El Salvador, while battling to end the unjust imprisonment, "he emphasized.
He stressed that the historical moment of the release of the Cuban Five, who were condemned to long and unjust sentences in the United States, for monitoring terrorist groups based in Miami, Florida, is due to the permanent struggle of solidarity organizations worldwide.
The president also stressed his approval "for the historical dialogue reached between the Republic of Cuba and the United States as a sign of understanding, respect for sovereign equality of the States, and self-determination of peoples."
He highlighted that this fact is a clear example that Latin America is marking a trend that pays towards a multipolar world, in which the region is committed to work for peace, justice, development, understanding, and solidarity among nations.
Sanchez Ceren, who is one of the historic leaders of the Farabundo Marti National Liberation Front, reiterated his joy and gratitude for the presence of those Cuban fighters in El Salvador.
The Cuban Five were detained in 1998 in Miami, while monitored plans by anti-Cuban terrorist groups operating in that U.S. city and caused thousands of deaths and injuries as well as extensive material damages in Cuba, according to authorities from that country.
On December 17, 2014, as part of an agreement reached between the governments of the United States and Cuba, Gerardo Hernandez, Ramon Labañino and Antonio Guerrero were released.
René and Fernando were already in Cuba by that time, but they had complied with arbitrary and lengthy sentences in prison.
The release was simultaneously announced by Cuban President, Raul Castro, and U.S.'s Barack Obama, in separate statements, in which the early restoration of diplomatic relations between Cuba and the United States, come true on Monday, July 20, was also reported on.