The coach of the New York Cosmos, Venezuelan Giovanni Savarese, described as an unforgettable experience his visit to Cuba and the friendly game disputed with the national Cuban soccer selection.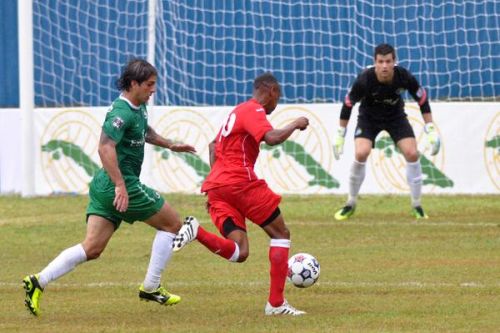 It is undoubtedly an extraordinary experience, beyond what we had imagined, stressed Savarese in a press conference held after the game on Tuesday that made headlines in today's sports news.
The Cosmos won 4 to 1 over the Cuban selection in a friendly game held at the stadium Pedro Marrero in Havana, featuring the presence in the field of Spanish forward Raul Gonzalez, former player of the Real Madrid.
The game was considered historic by the major figures on the field, said Brazilian Edson Arantes do Nascimento (Pele), Cosmos's President of Honor, as witness from the stands. Pele received a welcoming ovation from the public.
After the game, the TD from Venezuela thanked the Cuban Federation for the invitation and the people of this island for their warm welcome.
The boys feel all very honored to live this historic moment, said Savarese and added he brought his best team to help the Cuban selection prepare for the coming Gold Cup.
We would be glad to return here with the Cosmos, said the trainer who thinks possible that a Cuban team visits New York.
Asked about the result of the game, Savarese affirmed they never thought of inflicting a heavy defeat and are always very respectful to their rivals, but his team has a winning mentality and it always goes for victory.
The TD elaborated the result of the game does not reflect what was seen on the field, as the Cuban eleven had several opportunities of scoring they did not take.
On his part, the Cuban TD, Raul Gonzalez Triana, said his pupils played very badly in the first half, but improved a lot in the second.
It is always useful to play these games because they help us a lot, he said.
The Cosmos is the first professional soccer team of the United States that played in Cuba 1978, when the Chicago Sting visited the local selection.
Founded in 1970 and inscribed in the NASL, the Cosmos made history from 1975 to 1984, when it invested high sums of money to hire world stars in the last years of their professional careers, among them Pele, three-time winner of World Cups, German Franz Beckenbauer and Dutch Johan Neeskens.
The last time a professional U.S. team visited Cuba was on March 28, 1999, when the Orioles of Baltimore defied the national baseball selection.