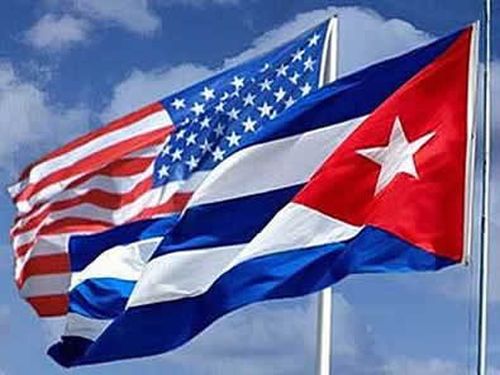 President of Cuba Raul Castro ratified the decision to restore diplomatic relations with the United States and to open permanent diplomatic missions in their respective countries from July 20, 2015.
The Cuban side takes this decision, encouraged by the mutual intention to develop friendly relations and cooperation between our peoples and governments, underlines a letter by the Head of State released on national television.
Obama Calls Congress to Lift Blockade against Cuba
Cuba and USA Restore Diplomatic Relations
Cuba is also inspired by the principles and purposes enshrined in the UN Charter and International Law, namely, sovereign equality, the settlement of disputes by peaceful means, further explains the President.
Additionally, Cuba believes that fostering friendly relations among nations must be based on the principle of not using threat or force against the territorial integrity or the political independence of any state.
It must also be based on respect for equal rights and self-determination of peoples, and on the promotion of human rights.
The above are in conformity with the spirit and the rules established by the Vienna Convention on Diplomatic Relations on April 18, 1961 and by the Vienna Convention on Consular Relations on April 24, 1963 -of which Cuba and US are States Parties- stressed the President.
Meanwhile, a statement by the Cuban government stresses that there can be no normal relations between the two countries for as long as the economic, commercial and financial blockade is applied rigorously, causing damage and shortages to the Cuban people.
In order to achieve normalization, the territory illegally occupied by the Guantanamo Naval Base must also be returned to Cuba.
Cuba also demands the elimination of programs aimed at promoting subversion and internal destabilization.
The text recognizes the decisions taken so far by US President Barack Obama, to exclude Cuba from the list of state sponsors of international terrorism.
Furthermore, Cuba consideres that Obama in use of its executive powers should urge the US Congress to lift the blockade and begin to take steps to modify the application of this policy.
As part of the process towards the normalization of relations, it will be essential to build the foundations of the nonexistent ties between both countries in their longstanding history, said the statement.
These ties should be founded on absolute respect for independence and sovereignty; the inalienable right of every state to choose their political, economic, social and cultural system, without any form of interference.
The government of Cuba reiterates its willingness to maintain a respectful dialogue with the United States and to develop relations in a civilized coexistence based on respect for the differences between the two governments and cooperation on issues of mutual benefit.