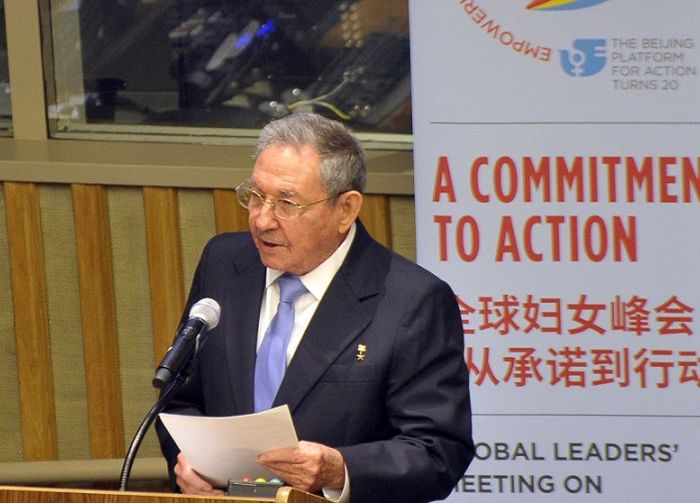 Cuban President, Raul Castro, continues this September 28th, his extensive work program at UN, where he will deliver a speech at the high-level segment of the General Assembly.
According to the list of speakers circulated, the president of the Caribbean island is scheduled to speak this afternoon, at 15:00 local time. The Assembly establishes today its general debate in the presence of more than 140 heads of State or Government, a forum to be run until October 3, in which issues such as world peace, climate change, fighting terrorism, and the impetus for the post-2015 sustainable development agenda, are expected.
Since his arrival in New York, on Thursday, Sept. 24, Raul Castro has fulfilled an extensive program of activities that included meetings with world leaders and American personalities, as well as lead the ceremonies of establishment of diplomatic relations of Cuba with Palau and the Marshall Islands.
The head of State of the Caribbean nation spoke with Venezuela's President, Nicolas Maduro, Mozambique's Filipe Nyusi, and Belarus's Alexander Lukashenko, Swedish Prime Minister, Stefan Löfven, and exchanged greetings at an informal meeting with Chinese President, Xi Jinping.
He also visited former U.S. President, Bill Clinton (1993-2001), at a Big Apple hotel, and received New York governor and mayor, Andrew Cuomo and Bill de Blasio, respectively, at the island's Permanent Mission at the UN.
Raul Castro also spoke here with businessmen, congressmen, and solidarity activists.
Yesterday, a group of people deployed at the central Lexington Avenue, in Manhattan, where the Cuban Mission is located- welcoming posters to the president, and claims to cease the economic, commercial and financial blockade Washington has maintained against Havana for more than 50 years.