Cuban legislators conclude today three days of debates in committees, devoted to key and prioritized topics within the economic, social and political events of the country.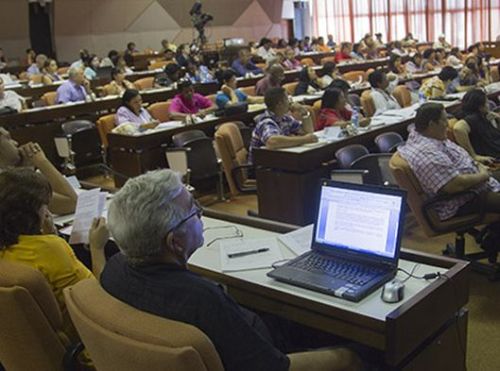 The presentation of the results of a review to the offices of the General Custom House of the Republic, responsible for dealing with complaints by the population, is expected in the last working session of those groups.
Information on the implementation of the policy of recycling and about cultural programs in public spaces, will also be included.
Prior to the Fifth Ordinary Session of the Eighth Legislature of the Cuban Parliament on Wednesday, July 15, legislators discussed and exchanged with ministers, specialists and directors of national institutions on the course of the main plans the island is developing, as part of the updating of its economic and social model.
The economic plan and the fulfillment of the State's budget in 2015 first half, the housing construction program and the granting of credits and subsidies to improve houses by own efforts, were among the main subjects under discussion.
About this issue, it was reported that although it is considered inadequate today, about 30,000 houses will be completed this year by state and own efforts of the population, to gradually improve home demands.
Another important issue of the commissions was the current situation of people aging and the implementation of measures to retirement homes, for being the country one of the oldest populations in the region with 19 percent of its population over 60 years, a figure that it will reach 30.8 percent by 2035.
About the issue, participants stressed that life expectancy of Cubans surpass 78 years and the health profile of the elderly is characterized by the chronicity of their condition, with functional repercussion and consequences, as well as a growing number of patients suffering from Alzheimer, a situation that leads to changes in care needs and distribution of health services.
Attention to the preparation of the necessary workforce for the economic development, strategies to follow, and the role of entities, particularly about what is happening today on polytechnic training, are also provided.
Experts from the Ministry of Education stated that a process of drawing up of curricula of all specialties of that educational level seeking to train skilled workforce in line with the demand of each territory has been implemented since 2009.