Cuba finished with four gold medals at the closing of the Doha 2015 World Boxing Championships, after Lazaro Alvarez (60 kg) and Julio Cesar La Cruz (81) won their respective fights this Thursday.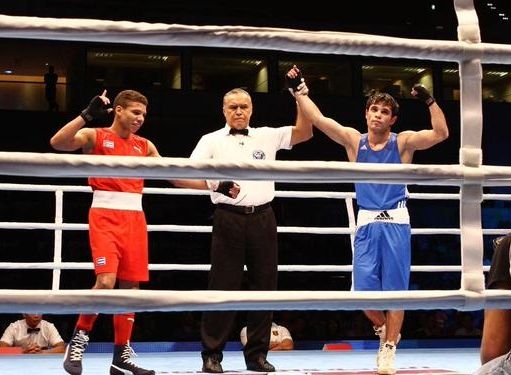 Alvarez won by TKO against Russian nationalized Azerbaijani Albert Selimov, a former world champion, and thus Alvarez became a three-time world champion, because he won in Baku in 2011 in Almaty-2013.
The same record was displayed by La Cruz, and he clearly imitated his teammate, when he defeated the Irish Joseph Ward 3-0 (30-27 ballots of all judges).
In contrast, Yosbany Veitia (52) failed with Azerbaijani Elvin Mamishzada and lost 0-3 but improved the bronze obtained in Almaty, 2013, taking the silver medal.
In the only fights where no Cuban fighters were taking part, Moroccan Mohammed Rabii surprised with his success over Kazakh Daniyar Yeleussinov in the 69, and Frenchman Tony Yoka was victorious against Kazakh Ivan Dychko in more than 91 kilograms.
Finally, Cuba dominated the medal table, with four gold medals, two silver and one bronze, followed by Russia (2-1-1) and Azerbaijan (1-1-1).
Before the finals of the competition, Olympic tickets were disputed on 60 and 69 kilos, which were for the Uzbek Elnur Abduraimov and Azerbaidzhani Parviz Baghirov.
Thursday medalists divisions:
52 kg:
1. Elvin Mamishzada (AZE).
2. Yosbany Veitia (CUB).
3. Flissi Mohamed (ALG) and Jianguan Hu (CHN)
60 kilograms:
1. Lazaro Alvarez (CUB).
2. Albert Selimov (AZE).
3. Elnur Abduraimov (UZB) and Robson Conceicao (BRA)
69 kilograms:
1. Rabii Mohammed (MAR).
2. Daniyar Yeleussinov (KAZ).
3. Parviz Baghirov (AZE) and Liu Wei (CHN)
81 kilograms:
1. Julio Cesar La Cruz (CUB).
2. Joseph Ward (IRL).
3. Elshod Rasulov (UZB) and Silyagin Pavel (RUS)
More than 91 kg:
1. Tony Yoka (FRA).
2. Ivan Dychko (KAZ).
3. Bakhodir Jalolov (UZB) and Joseph Joyce (GBR).