The visit to Cuba of Italian Prime Minister, Matteo Renzi, is today another step in the strengthening of cooperation ties between both nations.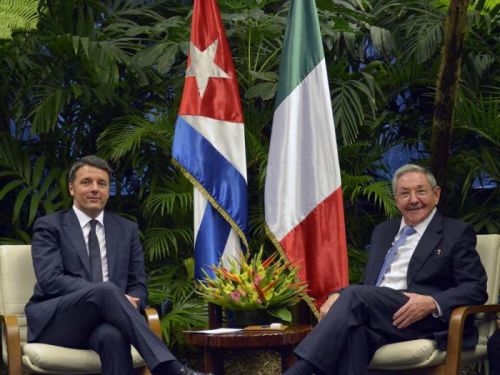 Speaking at the bilateral economic forum held yesterday in this capital's Hotel Nacional, Renzi called businessmen from his country to invest in the Caribbean island.
Renzi, who held a meeting with Cuban President, Raul Castro, urged them to identify business potentialities in tourism and real estate sectors, and in all areas that can help to strengthen the ties between the two nations.
According to Renzi, Cuba can reduce its food imports with higher agricultural production, and become independent of those purchases from abroad, and Italy offers the opportunity to establish concrete business.
Rome and Havana can develop joint projects in renewable energy, so we are willing to participate in this challenge with companies of the sector, he also said.
Italy will participate in the 33rd Havana International Fair, Fihav 2015, early November, with a total of 120 entities.
This figure is higher than the previous edition, and reflects the strong interest in deepening bilateral business ties, he noted.
During a keynote speech given at the Higher Institute of Art, the Italian prime minister said culture is the key factor in these times to save humanity.
Renzi, who paid a tribute to Cuban National Hero Jose Marti, emphasized that patriotism of culture has no boundaries because it goes straight to the heart of men.
Cuba and Italy signed agreements, but together we should take into account that there are many people who need it, so we are available and interested in collaborating in this field with projects, initiatives, and university exchange, he said.
The diplomatic relations with Italy were established on December 20, 1903, at an embassy level, and they were broken off on December 11, 1941, when Cuba declared war against the fascist axis of Germany and Italy.
They were later restored in 1945. The bilateral relations are cordial and stable, with prospects to be expanded.
Since 1995, Italy has voted on for the resolution of the UN General Assembly calling for an end of the economic, commercial and financial blockade imposed by the United States to Cuba for more than 50 years.