Chinese Vice President, Li Yuanchao, received First Vice President of the Councils of State and Ministers of Cuba, Miguel Diaz-Canel, to whom he congratulated for the successes achieved by the Caribbean island.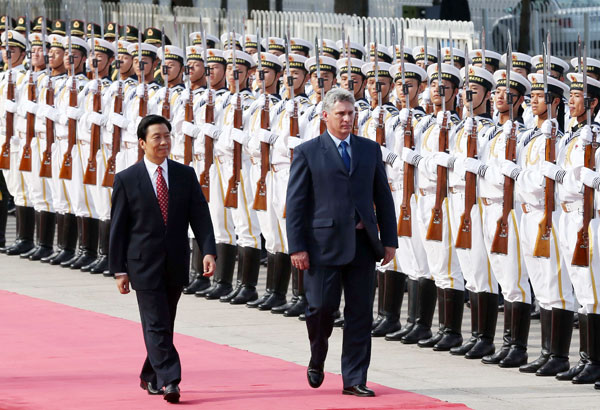 Diaz-Canel arrived in here this morning to participate in the celebrations for the 70th anniversary of the end of the World War II, and the triumph of this people over the Japanese occupation.
Li welcomed the Cuban leader and the high-level delegation accompanying him.
We are old friends, I remember we held a very interesting conversation last year at the Great People's Palace, the Chinese official said.
He said that in recent years, Cuba has become the focus of international community due to the policy of updating its economic model, and the recent restoration of diplomatic relations with the United States.
He congratulated the Cuban authorities for moving forwards in that direction that, in his opinion, has allowed a full and more dynamic development of the economic and commercial areas of the island.
Diaz-Canel's visit takes place in the framework of the 55th anniversary of the establishment of diplomatic relations between the two countries, occasion they will use to ratify and encourage a new level the good condition of the multifaceted and strategic ties, according to reports.
Deputy Foreign Minister, Rogelio Sierra Diaz, and Cuba's ambassador to China, Alberto Blanco Silva, also comprises the delegation.