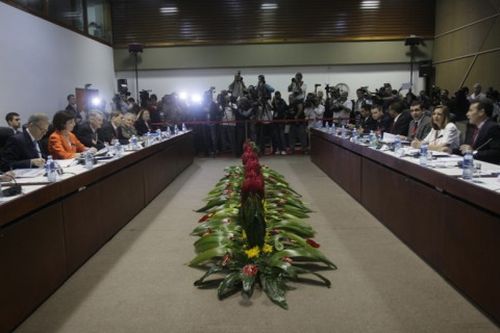 Cuba and the United States began today in Havana the second day of talks with a meeting focused on the restoration of diplomatic relations, the opening of embassies, and other issues of bilateral interest.
This meeting, running at the Havana's Conference Center, is the result of the statements made by the presidents from both countries on December 17, about the objective of starting a process to normalize ties between the two nations.
Cuba Issues Statement on Migratory Talks with the US The economic, commercial and financial blockade Washington has maintained on the Caribbean island for more that 50 years is the main obstacle towards the achievement of a stable relation, the Cuban Ministry of Foreign Affairs (Minrex) states.
The U.S. delegation attending the meeting is presided over by Roberta Jacobson, United States assistant secretary of State for Western Hemisphere Affairs, while Cuba is represented by Josefina Vidal Ferreiro, director of the United States department at Minrex.
The two sides discuss the principles on which those ties are sustained.
About this issue, a Minrex diplomatic official said the opening of embassies in both capitals should be based on the principles of the United Nations Charter and the Vienna Convention on Diplomatic and Consular Relations.
In this meeting, in which the way to new exchanges about the issue will be open, Cuba reiterates the proposal it made last year to the U.S. government to hold a respectful dialogue on the basis of reciprocity as regard to the exercise of human rights, a Minrex spokesman reported.
The two sides will also discuss other issues of bilateral interest, according to reports so far.
The 28th round of migration talks between Cuba and the United States, in which the U.S delegation was presided over by Assistant Sub-secretary for Western Hemisphere affairs of the State Department, Edward Alex Lee, was held yesterday at the Havana's Conference Center.