The Minister of Foreign Affairs of Cuba, Bruno Rodriguez, highlighted today the ties of friendship, respect and cooperation with the government of Norway.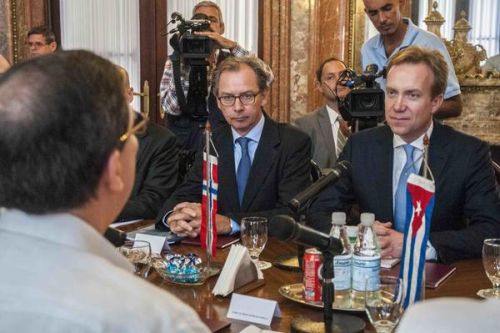 This visit is a new opportunity for relations between the two countries, said Rodriguez after receiving his Norwegian counterpart Borje Brende at the headquarters of the Foreign Ministry.
Our countries have relations of friendship, respect and cooperation, and there is a positive progress thereof and, at the same time, a potential to be developed, said Rodriguez.
Norway and Cuba share duties as guarantors of the peace dialogue in Colombia.
The Foreign Minister added that we have maintained a fruitful cooperation in Haiti, and that we are willing to deepen it in the academic, cultural, economic, trade and investment spheres.
Meanwhile, Brende expressed his government's intentions to strengthen ties with Havana.
Cuba and Norway established diplomatic relations at the level of Legation on May 12, 1909 and rose to the rank of Embassy in November 1961.
Since 1993 Norway has voted interruptedly in favor of the Cuban resolution against the economic, commercial and financial blockade imposed by the United States to the island for over half a century.