Cuba and Mexico ratified today the excellent state of their relations and their willingness to broaden and strengthen them in the context of the state visit here of Mexican Foreign Minister Claudia Ruiz Massieu.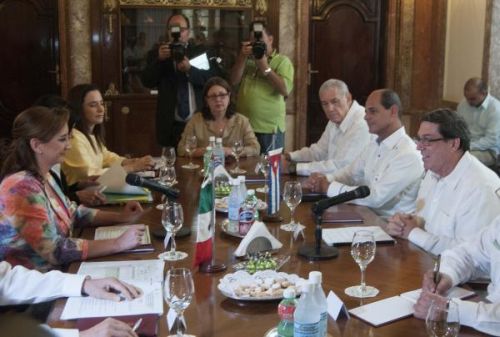 During his meeting with Ruiz Massieu, the Cuban Foreign Minister Bruno Rodriguez expressed satisfaction with "the good level of relations, their promising prospects and very upward development based on longstanding friendly links of solidarity and communication between the two peoples."
We can see great potential in our relations in all fields: cultural, scientific, academic, sports and economic, said Rodriguez, who also thanked Mexico for his stand against the US economic blockade imposed on the Island for over half a century.
In a general sense, we consider this is a very special moment in the bilateral relations, said Rodriguez referring to the new stage in the links re-launched during the Government of President Enrique Pena Nieto, who visited the Island last year.
We acknowledge in Mexico a country with which we have a very intense relations and are willing to strengthen the economic-commercial and cooperation links, which are very promising with the presence of Mexican investors in the Special Development Zone of Mariel, a strategic facility for Cuban foreign trade, located in Artemisa province, west of Havana.
Meanwhile, Mexico's tip diplomat stressed that there is a renewed relation between her country and Cuba based on longstanding friendly links and solidarity, and said this renewal is aimed at promoting this closeness in the commercial field, but also in other areas like cooperation and cultural exchange.
She said Mexican firms and industries are interested in increasing their presence in Cuba, as they want to be part of this new opportunity opened in our relations.
She also referred to strengthened links in tourism and education (with more than 20 agreements signed among university institutions) and in the cultural field (more than 300 artists took part in the International Festival on Maya Culture, with Cuba as guest country).