The Foreign Ministers of Cuba, Bruno Rodriguez, and Ghana, Hanna Serwaah Tetteh, advocated here for the continuance of the relations of friendship and collaboration between Cuba and Ghana.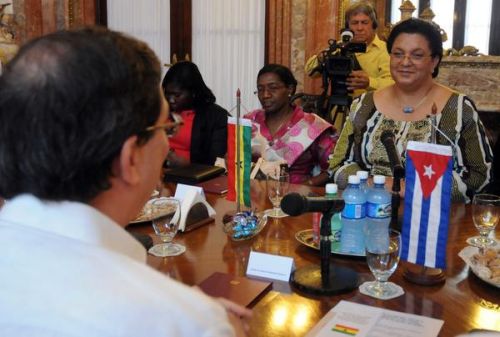 In the headquarters of the Cuban Foreign Ministry in Havana, both diplomatic representatives coincided on the need to join each other to face common challenges, and expressed the interest to strengthen the links established on December 23, 1959.
The links have antecedents in the support of Cuba to the struggle of African nations for their own independence, against colonialism and for the defeat of the Apartheid, Rodriguez said.
Rodriguez was also grateful for the solid and permanent solidarity of Ghana and African countries in general to the Cuban battle against the US blockade against the Caribbbean island, for more than 50 years now.
Serwaah Tetteh, meanwhile, reiterated his country's support to Cuba and said that this visit, his first to the island, exceeded all expectations and will help strengthen the excellent ties between Accra and Havana. These links are currently expressed in the areas of education and health, from the beginning of medical cooperation starting with the Integral Health Program which will be 15 years old on July 15.
Over the years, more than a thousand young Ghanians have been trained as professionals in Cuba, and is currently studying 38 fellows and other 246 are trained under the formula of government funding.
The visit of the Ghanian Foreign Ministry coincides with the 50th anniversary of the presence of Argentinean-Cuban guerrilla leader Ernesto Che Guevara in Ghana, from January 14 to 21, 1965.