Cuba Council of Ministers, headed by President Raul Castro, debated about the export of Cuban services involving commitments with foreign governments, headlined the local media.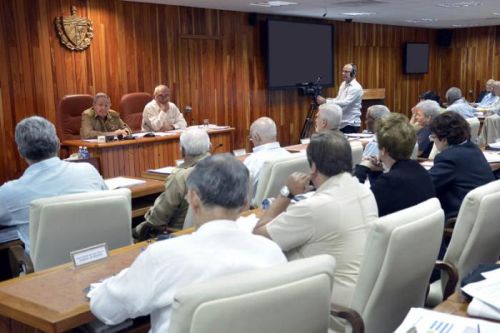 It is necessary to establish rules that assure the compliance of contracted obligations, adequate control and protection of Cuban interests, without introducing obstacles that jeopardize their development, expressed First Deputy Minister of Foreign Trade and Investment, Antonio Carricarte.
The establishment of certain principles will contribute to give adequate institutionality to business and should imply a better preparation on the part of enterprises involved in them, added Carricarte quoted by dailies Granma and Juventud Rebelde.
During the meeting held last Thursday, a reorganization of scientific, technological and innovation enterprises to be carried out in two stages, was also announced.
Cuban President commented it is necessary to keep preparing those who direct these activities in the country, as after investigating, we have to produce and commercialize with efficiency, he emphasized.
Green light was also given to the improvement of the railway system, plans to continue studying for ninth-grade graduates and the entry to high education.
Direct allocation of financial resources was approved for writers and artists for the development of projects, for which the quality, interest of cultural organizations, besides the work history of creators, will be considered.